Meet our AFS students!
Four AFS students will give presentations about their home countries at 3:30pm Sunday Oct. 24 at Generations. Presenters will include:
Demi Cairo from Suriname
Maximiliano Chacon Navarro from Chile
Seba Al Tawfiq from Saudi Arabia
Anna Museva from Bulgaria
We need you!
Be a host family:
More than providing a bed and meals, AFS host families welcome a new member into their home, share their everyday lives, and grow as they get to know one another.
Be a liaison:
Liaisons are volunteers identified as the primary contact for each host family and individual AFS participant for the duration of his or her program.
Be an AFS student:
Spend a year studying abroad in one of more than 50 AFS countries.
Learn more:
Contact Pat Gafney at patrickgafney@gmail.com.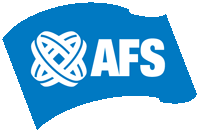 Countries represented by AFS students at PHS
2019-20:
Belgium, Italy, Netherlands, Norway, Philippines, Portugal, Spain, Sweden, Switzerland
2018-19:
Albania, Denmark, Italy, Japan, Jordan, Macedonia, the Netherlands, Norway, Spain
2017-18:
Austria, Dominican Republic, Germany, Hong Kong, Hungary, Italy, Japan, Norway, Spain, and Turkey
2016-17:
Austria, Germany, Iceland, Indonesia, Italy, Japan, Kosovo, Latvia, Portugal, Saudi Arabia
2015-16:
Argentina, Australia, Denmark, Germany, Hong Kong, Jordan, Moldova, Spain, Turkey
2014-15:
Chile, Denmark, Italy, Norway, Germany, Russia, Spain, Turkey
2013-14:
Chile, Dominican Republic, Egypt, Finland, France, Germany, Italy, Japan, Norway, Russia, Spain, Turkey
2012-13:
Australia, Denmark, Dominican Republic, Germany, Iceland, Japan, New Zealand, Norway, Pakistan, Spain, Yemen