Meet our 2022-23 AFS students!
Jamila Becker from Germany
Ines Casade San Jose from Spain
Filip Kacenga from Slovakia
Zenab Khatib from Israel
Sand Lalawi from Israel
Elea Mehmetau from Switzerland
Jihyun Na from South Korea
Planas Aquiso Mateo from Spain
Blagica Sivakova from Macedonia
Elli Van Capellen from Greece
Learn more about them!
The students will give presentations about their home countries at Generations, 1500 Douglas Drive, Plymouth.
3:30pm Sunday Nov. 6:
Slovakia, Greece, North Macedonia, Italy
3:30pm Sunday Feb. 5:
Germany, Israel
3:30pm Sunday April 23
Switzerland, Spain, France, South Korea
We need you!
Be a host family:
More than providing a bed and meals, AFS host families welcome a new member into their home, share their everyday lives, and grow as they get to know one another.
Be a liaison:
Liaisons are volunteers identified as the primary contact for each host family and individual AFS participant for the duration of his or her program.
Be an AFS student:
Spend a year studying abroad in one of more than 50 AFS countries.
Learn more:
Contact Pat Gafney at patrickgafney@gmail.com.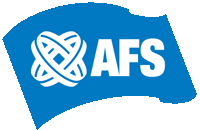 Countries represented by AFS students at PHS
2022-23:
Germany, Greece, Israel, Macedonia, Spain, Slovakia, South Korea, Switzerland
2021-22:
Bulgaria, Chile, Denmark, Dominican Republic, France, Moldova, Norway, Philippines, Saudi Arabia, South Africa, Suriname, and Sweden
2019-20:
Belgium, Italy, Netherlands, Norway, Philippines, Portugal, Spain, Sweden, Switzerland
2018-19:
Albania, Denmark, Italy, Japan, Jordan, Macedonia, the Netherlands, Norway, Spain
2017-18:
Austria, Dominican Republic, Germany, Hong Kong, Hungary, Italy, Japan, Norway, Spain, Turkey
2016-17:
Austria, Germany, Iceland, Indonesia, Italy, Japan, Kosovo, Latvia, Portugal, Saudi Arabia
2015-16:
Argentina, Australia, Denmark, Germany, Hong Kong, Jordan, Moldova, Spain, Turkey
2014-15:
Chile, Denmark, Italy, Norway, Germany, Russia, Spain, Turkey
2013-14:
Chile, Dominican Republic, Egypt, Finland, France, Germany, Italy, Japan, Norway, Russia, Spain, Turkey
2012-13:
Australia, Denmark, Dominican Republic, Germany, Iceland, Japan, New Zealand, Norway, Pakistan, Spain, Yemen