Current opportunities
Community Education & Recreation offers fitness & aquatic classes, as well as learning & wellness opportunities for everyone from babies to senior citizens.
Quick Links
• Community use of the
PHS Fitness Center
•
Track/Hall Walking information
•
Online registration
: This option allows you to pay with a credit card and to receive immediate confirmation of enrollment.
•
Printable registration form
: Mail to Community Ed & Rec, 125 Highland Ave., Plymouth WI 53073.
•
Summer 2021 Course Listings
How do I register?
Register online: By registering online you can pay with a credit card and get immediate confirmation of enrollment. No service charge!
Print a registration form: Mail it with a check to Community Ed & Rec, 125 Highland Ave., Plymouth WI 53073.
In-person registration: Visit our office from 8am-4pm weekdays to pay by cash or check. Park in the visitor lot in front of the school and enter at Door 18.
Summer 2021 session
Registration is now open! Fitness & aquatic classes have begun, but contact us if you are interested in joining mid-session.
View online descriptions of our current courses.
View or print a copy of our Summer 2021 course guide. Copies also may be found in our office.
Youth & Family classes
Friday Playgroup
For all ages! Enjoy our parks and commune with nature, other parents and children at this parent-supervised free play. Shelters will be open in parks that have them.
9:30-11am Fridays June 18-Aug. 13 (except July 2)
(In severe weather, we will meet at the Youth Center)
• July 23: City Park* (PHS multi-purpose facility if rain)
• July 30: Lone Oak Park
• Aug. 6: Stayer Park
• Aug. 13: Meyer Nature Park
Fee: Free, but please register by Thursday each week
* In conjunction with Play is Healing
Aquatic classes
In The Deep
Water resistance offers a great workout in deep water. You can use noodles or cuffs.
Instructor: Beth Kerntke
6-6:45pm Mondays & Wednesdays
June 14-Aug. 25 (except July 5 & 7; Aug. 2 & 4)
Fee: $68 (seniors* $54) until June 4, then $78
Optional: $35 for water cuffs to be worn as a belt or on ankles
Water Walking
This self-directed class in shallow water is perfect for those with limited mobility. Held at same time as In the Deep, so help is nearby.
6-6:45pm Mondays & Wednesdays
June 14-Aug. 25 (except July 5 & 7; Aug. 2 & 4)
Fee: $44 (seniors* $35) until June 4, then $54
Lap Swim
Low-impact regular exercise!
7-8pm Mondays & Wednesdays
June 14-Aug. 25 (except July 5 & 7; Aug. 2 & 4)
Fee: $50 (seniors* $40) until June 4, then $60
Fitness classes
Les Mills BodyPump
This full-body barbell workout with great music targets each muscle group. Choose your weights to maximize repetitions as you sculpt, strengthen, and tone. Each class, you will complete close to 1,000 repetitions!
• Instructors: Carly Lenz and Julie Frausto
   5-6pm Mondays & Wednesdays
   June 14-Aug. 23 (except July 5; Aug. 16 & 18)
   in PHS Multi-Purpose Facility
• Instructor: Julie Frausto
   5:45am-6:45am Fridays June 18-Aug. 13
   in PHS Multi-Purpose Facility
Early fees until June 4 (add $10 after that):
3 classes a week (27 classes): $115 (seniors* $92)
2 classes a week (18 classes): $93 (seniors* $74) 
1 class a week (9 classes): $51 (seniors* $40)
(If you sign up for 1 or 2 classes per week, indicate which days on the registration form or by contacting our office)
Total Body Training
This is a great beginner class but can also benefit the most experienced participant. This class will increase your heart rate with low to medium impact intervals using weights, resistance bands, and stability balls with a direct focus on core strengthening.
Instructors: Josette Svitter
Mondays & Thursdays June 14-Aug. 23 (except July 5)
4:30-5:30pm in PHS Studio
Early fee: $75 (seniors* $60) until June 4, then $85
Or attend any 10 classes for $46 (seniors* $36)
Yoga with Weights
A yoga class with a little more strength, by adding light weight with high reps. You will hold standing poses to work your legs and add weighted reps to work the arms. Bring a yoga mat.
Instructor: Emily Nelson
5:30-6:30pm Tuesdays July 13-Aug. 17 in PHS Studio
Early fee: $43 (seniors* $34) until July 2, then $53
Rec opportunities
Hiking Club
Enjoy the Kettle Moraine Forest and other trails in our area for a group hike. Be sure you have a state park sticker! Please register no later than the Tuesday prior to the date you wish to join.
5:30pm Wednesdays
• July 28: Parnell Trail (3.5 miles)
• Aug. 11: Dundee Mountain (1 mile with elevation)
Fee: Free, but you will need a state park sticker
Trail Running
For new and experienced runners, add some variety to your running routine by taking your route off-road. Utilize the trails of the Kettle Moraine to increase cardio and muscle conditioning and to enjoy nature at the same time. We will run a variety of trails, including the Greenbush trails, the Butler Lake loop trail, and the Zillmer trails. Distances will vary, but plan for 45 minutes to 1 hour per run.
Instructor: Katie Schuenemann
7pm Tuesdays July 6-Aug. 17 (except Aug. 3)
Early fee: $20 (seniors* $16) until June 25, then $30
(Contact our office for a family rate)
NOTE: A state park sticker will be needed, or carpooling can be arranged.
Fall 2021 session
We're hard at work planning for the fall session, which we hope is fairly normal. Course details will be available Monday Aug. 16.
Registration will open at 9am Wednesday Aug. 25.
By then we hope to have a new registration system, one that combines registration info, supplemental forms, and payment all in one place. You will need to create a new account, but the new system promises to be much more user friendly! Watch for more info in late August.
Other options
We have many options for those looking for exercise or recreation outside of a traditional class!
Fitness Center Kickstart Consultations
Feeling stuck in your workout, or not sure where to begin your fitness journey? Schedule a Fitness Center Consultation with our wellness coordinator, Carly Lenz! While this is not one-on-one personal training, it is more than a basic orientation. Your personal fitness goals will guide the effort, with the chance to add more as you are ready.
During the initial 45-minute meeting, you will set a goal and establish a routine to help you meet that goal. You will explore Fitness Center machines that interest you and learn some exercises you can do in our wonderful facility.
Throughout the next month, work toward your goal, with brief check-ins with Carly in person or via email to help you stay on track.
At the end of a month, schedule a follow-up meeting of 15 to 30 minutes to assess your progress and get set up so you can achieve continued success on your own.
To participate: This opportunity is open to Fitness Center members with a 6-month or year membership. Fee is $25 ($20 for those ages 62 and above), payable by cash or check in our office.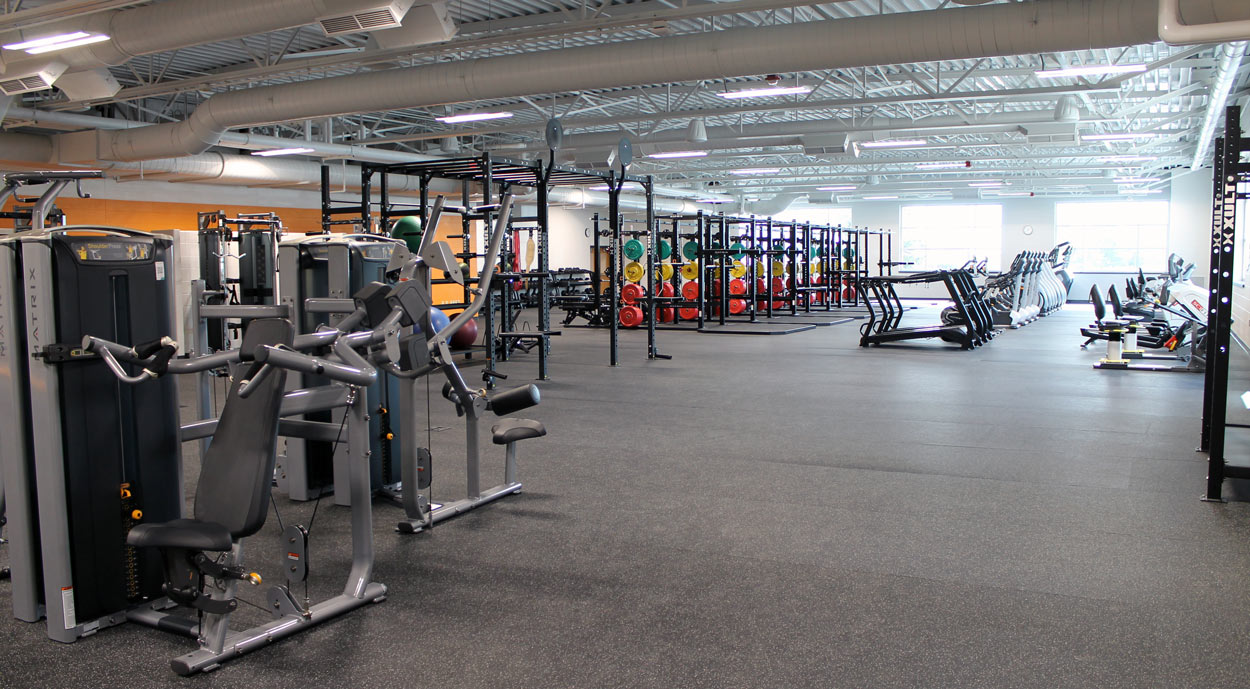 Les Mills on Demand
Our participants now can get a preferred rate on subscriptions to Les Mills on Demand, which offers unlimited access to more than 1,000 online workouts!
New participants can try it free for 60 days, then pay just $9.99 a month (regularly $14.99). Those who already have signed up on their own can cancel their existing subscription, then sign up through us to get the discount (you won't get the free trial again, but you can start saving right away).
To participate: Visit Les Mills on Demand to sign up.
Additional exercise options available now
Fitness Center: Community members can join the Fitness Center at PHS, which features circuit training, free weights, and cardio machines. Memberships are available online and in our office. Members must reserve a workout time in advance; drop-ins are not allowed at this time. Learn more
Virtual workouts: For those who prefer to work out at home, wellness coordinator Carly Lenz has created a YouTube playlist with 16 free workouts ranging from stretches to high-intensity intervals.
Cancellations
If school is cancelled or closed early, classes will not meet. We will update our phone message (920-892-5068) accordingly. Also watch for cancellation information on the district website
Cancellations page
, as well as its
Twitter feed
, and our
Facebook page
.
Learn more:
• Email us at commedrec@plymouth.k12.wi.us.
• Call us at (920) 892-5068.
•
Sign up for our e-newsletter,
which is sent each month and when registration opens for each session.
•
Follow us on Facebook.