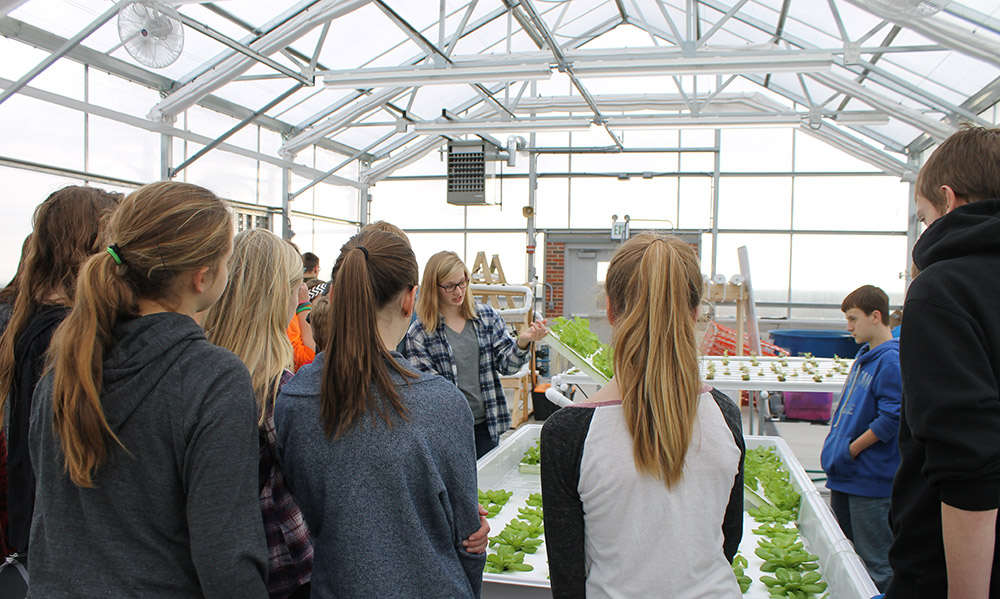 21st century learning skills
The center is a modern research facility, where students are involved with the installation, maintenance and testing of various growing systems. They have the opportunity to explore lighting needs and the proper balance between UV and fluorescent light, for example, and to scout for pests and disease.
Students throughout the district visit the facility to experience agriscience first-hand. It provides more opportunities for all students – whether they are bound for college, technical school or the workplace, much like the LTC-Plymouth Science & Technology Center that opened at the school in 2011.
The facility benefits nearly three-quarters of the PHS student body, as it supports curriculum in seven areas: food science, culinary arts, agriculture, science, engineering, health and business. Agriculture students are able to collaborate with food science students to develop new products and healthy recipes from food grown in the center, which in turn are used by the PHS chef and kitchen in school meals.
While the primary reason for the center is the education of PHS students, the facility also is used for continuing education classes offered through Community Education & Recreation outside of the school day.
The district also plans collaborations with many community organizations, including Lakeshore Technical College, Nourish, the Plymouth Food Pantry, St. Vincent DePaul, Generations, 4H and UW-Extension.
The center also allows for business partnerships with top local employers in food-related industries. These partnerships lead to a better prepared workforce and give students a better understanding of the diverse career pathways within the field.