Quick Links
•
2018 Homecoming Parade Entry Form
•
Ropes Course Climb Waiver
Community events
The community is encouraged to enjoy Plymouth High School Homecoming Week from Sept. 23 to 29, especially the activities on Friday, Sept. 28.
Storefront decorating
Local businesses are invited to decorate in keeping with the theme of "PHS Around the World."
Volleyball/Powder Puff tournaments
The public is invited to witness the annual Boys Volleyball Tournament beginning at 3:15 p.m. Sunday, Sept. 23 in the gym, as well as to the Girls Powder Puff Football Tournament beginning at 5:15 p.m. on the football field.
Parade
School and community groups are encouraged to enter the 2018 Plymouth High School Homecoming Parade, which has a theme of "Around the World."
The parade will travel through downtown Plymouth beginning at 4:15 p.m. Friday, Sept. 28. The route will begin near East Main and Caroline streets, head south to Mill Street, east on Mill to North Street, then north back to Main.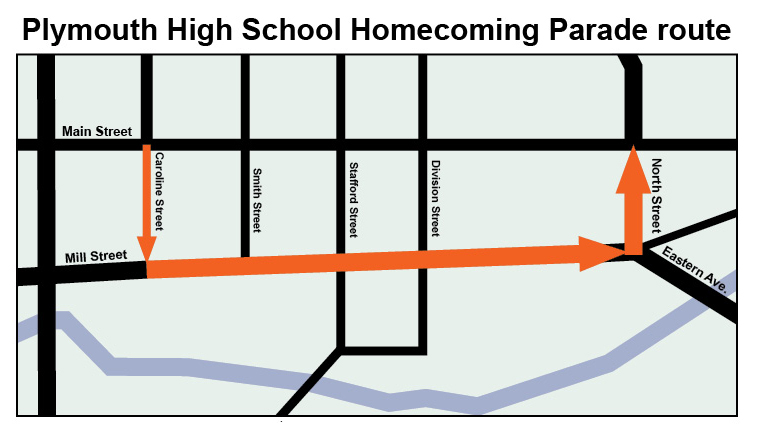 Attention parade participants: Cars, floats and walkers may participate. Vehicles must move at 5 mph. For safety reasons, candy and gum cannot be thrown, but may be handed to children. Participants will line up beginning at 3:15 p.m. on a first-come, first-served basis; see the map below.
To participate, return a completed Homecoming Parade Entry Form by Wednesday, Sept. 26 to the PHS office, 125 Highland Ave. There is no entry fee.
Brat fry
A brat fry sponsored by the PHS Soccer Booster Club will be held at the Finke Field concession stand at PHS. Brats, burgers and baked goods will be sold from 4:30 to 9 p.m.
Riverview Open House
After the parade, the public is invited to an open house at Riverview Middle School, built in 1933 as Plymouth High School. Riverview, 300 Riverside Circle, will be open from 5 to 6:30 p.m. Friday, Sept. 28.
Ropes Course Climb
Community Education & Recreation is offering a free climb on the Adventure Ropes Course at Plymouth High School from 5 to 7 p.m. The climb is free, but participants (or the parent or guardian of minors) must sign a waiver.
Football game
The football game against Winneconne will kick off at 7 p.m. PHS alumni are invited to sign in at the Plymouth Education Foundation welcome tent and receive a complimentary gift. Those who can't make it to the game can follow the action live online at www.plymouthtv.org or at www.1420thebreeze.com.
School events
Daily activities
A tug-of-war competition between the classes will be held throughout the week during the advisory period, with the finals Friday morning. Daily dress-up days also are planned for each day of the week.
Pep Rally/Coronation/Hall of Fame Induction
The annual Homecoming Pep Rally/Coronation on Friday, Sept. 28 will feature the Homecoming Court, chosen by the student body from representatives of each student activity or club. The representatives and court also will be announced before the football game.
The assembly also will include the induction of the newest members of the PHS Alumni Hall of Fame: Ralph C. Stayer of the Class of 1961 and Allen Nohl of the Class of 1968.
Homecoming Dance
The annual Homecoming Dance on Saturday, Sept. 29 will conclude the week's activities.
Class Reunions
Homecoming is a great time for class reunions, which can include marching in the Homecoming Parade, recognition at the football game, and tours of Plymouth High School and Riverview Middle School (which served as the high school through 1965). Please let the Plymouth Education Foundation know if you're planning a class reunion at any time of the year.
The following classes plan reunions during Homecoming 2018:
PHS Class of 1968
PHS Class of 1973
PHS Class of 1978
Visit our Alumni Information page for more information about reunions scheduled during Homecoming.
Homecoming at a glance
Sunday, Sept. 23
•
Boys Volleyball Tournament:
3:15 p.m. in PHS gym
•
Powder Puff Football:
5:15 p.m. on PHS football field
Monday, Sept. 24
•
Dress Up:
Class Color (Staff black, freshmen tan, sophomores green, juniors red, seniors blue)
•
JV Football
vs. Ripon, 4:30 p.m.
Tuesday, Sept. 25
•
Dress Up:
Tourist Day
•
Tennis
at Howards Grove, 4 p.m.
•
Cross Country
at Sheboygan Lutheran, 4:15 p.m.
•
Boys Soccer
at Campbellsport, 4:30 p.m.
•
Volleyball
at Sheboygan Falls, 5:30 p.m.
Wednesday, Sept. 26
•
Dress Up:
Jet Lad Day (pajamas)
Thursday, Sept. 27
•
Dress Up:
USA Pride
•
Boys Soccer
hosts Winneconne, 4:30 p.m.
•
Volleyball
hosts Winneconne, 5:30 p.m.
•
Comedy Show:
7 p.m. PHS Amphitheatre
Friday, Sept. 28
•
Dress Up:
Panther Pride
•
Homecoming Pep Rally/Crowning Ceremony:
1:10 p.m. PHS Auditorium
•
Parade:
4:15 p.m. through downtown
•
Brat Fry:
4:30-9 p.m. Finke Field concession stand
•
Riverview Open House:
5-6:30 p.m.
•
Free Ropes Course Climb:
5-7 p.m.
•
Football hosts Winneconne:
7 p.m.
Saturday, Sept. 29
• Volleyball at Wrightstown: 9 a.m.
• Boys Soccer at Notre Dame Academy: 10 a.m.
• Homecoming Dance: 8-11 p.m. PHS Cafeteria
Learn more:
• Read an article about
entering the Homecoming Parade
.
• Visit the
PHS Alumni webpage
to learn more about the PHS Alumni Hall of Fame and about class reunions during Homecoming.
• Explore the Community Engagement section of our award-winning
District Report Card
to learn more about the connections between our schools and our community.