PHS Alumni Hall of Fame - 2010 Honorees
The inaugural honorees were announced June 6 at Commencement and formally inducted Oct. 1 during Homecoming.
Carol Edler Baumann – Class of 1950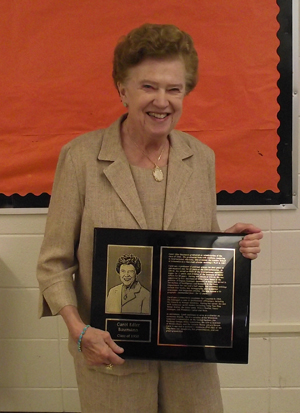 Carol Edler Baumann graduated as valedictorian of the Class of 1950. She graduated from UW-Madison, majoring in international relations. She attended the London School of Economics as a Marshall scholar, earning a Ph.D in 1957.
Carol was a professor of political science for four years at UW-Madison and for 35 years at the UW-Milwaukee. At UW-M, she served as chair of the international relations major for 17 years, and director of the Institute of World Affairs for 33 years. During her tenure at UW-M, she was appointed by U.S. Secretary of State Cyrus Vance to the position of Deputy Assistant Secretary of State and served in the Bureau of Intelligence and Research in the State Department for two and a half years. Her academic writings include four books, two monographs, and numerous newspaper and magazine articles. She also hosted a TV program – International Focus – for 15 years.
Carol was a Democratic candidate for Congress in 1968. She belonged to over 25 professional affiliations, including the Council on Foreign Relations. During her career, she met with numerous world leaders, including Deng Tsao Ping, Yassar Arafat, the Dalai Lama, Prince Charles, Henry Kissinger, and Presidents Carter and Bush.
In retirement, Carol continues to serve as a director on numerous boards. She is a member of the Wisconsin Governor's Commission on the United Nations, the National Foreign Policy Association, the UW-M Institute of World Affairs, and the Eastern Shores Library System. Carol is married to Richard J. Baumann (PHS class of '49). They have two daughters, five grandchildren, and one great-grandchild.
Kazuhiko Maekawa – Class of 1958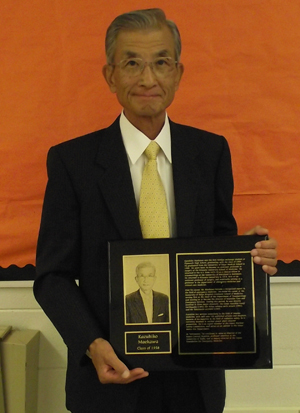 Kazuhiko Maekawa was the first foreign exchange student at Plymouth High School, graduating with the class of 1958. He graduated from the University of Toyko Medical School in 1968. Six years later, he became an assistant professor in surgery at the Kitasato University School of Medicine. He returned to the U.S. from 1975-78 as a clinical fellow in traumatology at the University of Maryland in Baltimore. He returned to Kitasato University in 1978, first as an assistant professor of surgery, and eventually serving as a professor in the department of emergency medicine and critical care medicine.
Over his career, Mr. Maekawa became a recognized expert in the field of emergency medicine. He ended his career at the University of Toyko Hospital- Graduate School of Medicine, serving first as the chair of the Department of Traumatology and moving on to become the director of Intensive Care and Emergency Services. During this period, he was directly involved in three major disasters: the Great Hanshin-Awaji Earthquake (1995); the Toyko subway sarin attack (1995); and the Tokaimura accident (1999).
Kazuhiko has written extensively in the field of trauma medicine, with well over 150 published articles and chapters. Because of his expertise in the field of radiation safety, he is currently involved in nuclear power plant disaster prevention. He is an expert member of the Japan Nuclear Safety Commission, and serves as an advisor to the Tokyo Metro Fire Department.
In "retirement," he continues to serve as director of the Kanto Central Hopsital, professor emeritus at the University of Toyko, and as deputy director of the Japan Foundation for Emergency Medicine.
Timm A Zimmermann – Class of 1953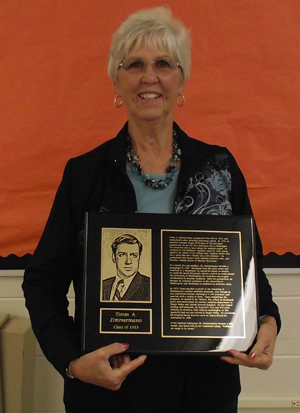 Timm A Zimmermann graduated from PHS in 1953, and immediately after attended pharmacy school. In 1956, he married Suzanne Unger (PHS class of '54) and upon graduation, he got his first pharmacy job in Sheboygan. His intention was to save money for medical school. He enrolled in UW-Madison's medical school in 1959, going against the advice of the college that "medical school was not a good idea for a family man with children." He graduated with honors from medical school in 1963, and became a family doctor in Westby, Wisconsin.
As a result of a car accident, Dr. Zimmermann became paraplegic in 1967. Paralyzed from the waist down and confined to a wheelchair, he moved his family moved to Seattle to avoid the harsh Wisconsin winters, and so he could attend the University of Washington; his intention was to gain certification in internal medicine. After his graduation, he became an assistant professor at the University of Washington and developed an ambulatory medicine clinic.
In 1973, Timm decided to enroll in the University of Washington's nuclear medicine program, even though he was wheelchair-bound, working as a UW professor, and married with a family of three. Upon completing the program, he moved to Mt. Vernon, WA, where he developed, grew, and maintained the nuclear medicine department at Skagit Valley and United General Hospital. He also helped develop and maintain the hospital's CCU and ICU units. Initially he served as their defacto cardiologist, as this specialty had not yet arrived in Skagit Valley. He continued his hospital-based practice until an injury forced his retirement in 1998.
To his medical colleagues, Dr. Zimmermann became a role model; they know him by his trademark adage, "Problems are made to be solved."