Plymouth Comprehensive High School opened in the fall of 1966 and – while it has been upgraded with fabulous new facilities such as the LTC-Plymouth Science & Technology Center and the Food Science & Agriculture Center – it has remained true to its original philosophy.
The school building and the curriculum were designed to offer a broad choice of subjects, but also a large amount of individual attention – which continue to be hallmarks of the school.
"We take great pride in being a comprehensive high school with staff who work hard to get to know our students and to help them discover and develop their passions," said current PHS Principal Jennifer Rauscher.
PHS initially was divided into three divisions – Mathematics and Science, Humanities, and Vocational and Technical – each with its own faculty headquarters and meant to operate somewhat autonomously. This structure provided students with extensive curriculum offerings and, at the same time, a large amount of individual attention and assistance from staff, according to the dedication booklet. "Plymouth's high school is a larger school designed and planned to operate with many of the close teacher-pupil relationships which existed in smaller schools."
The 245,000-square-foot school cost about $3.7 million for land and construction. There were 65 teaching areas, all of which were air-conditioned except the shop classes and the gym. The school boasted a gymnasium that could seat 2,200, an auditorium that could seat 1,226, and a cafeteria that could seat 400. Also about this time, a bus system was organized so all students could reach their school within an hour's travel time. In addition, a district-wide hot lunch program was launched.
"With the concepts that are built into this new school, we are working to help students do their own thinking," Elmer Grahl, then-president of the Board of Education, noted during the formal dedication held March 12, 1967. "The objective here is to make each child a thinker and doer."
That objective is just as relevant today, according to Dr. Rauscher. "As we're developing curriculum and designing experiences for students, we often talk about having students 'do' the subject, and we especially appreciate our many business and community partners who help us create authentic opportunities for students to apply their learning," she said.

After the 1967 dedication ceremony, visitors could tour the facility during an open house, with student guides from Student Council, FTA and National Honor Society. Refreshments were served in the cafeteria.
In celebration of its 50th anniversary, Plymouth High School is hosting a 50th Anniversary Open House Feb. 23.
Learn more:
• Key events in Plymouth School District history.
• The stories behind some Plymouth High School artifacts.
A detailed history of Plymouth High School
Note: Most of this material was drawn from "Plymouth Joint School District No. 8: 120 Years of Progress 1847-1967," compiled by Clara Graef Stienecker of the Class of 1914 and authorized by the Plymouth Joint School District Board of Education.
The history of Plymouth High School dates to the 19th century. The Plymouth School District traces its origins to 1847, when a log cabin school opened at Winooski in the Town of Plymouth. Numerous school buildings were used in the ensuing years, with a high-school course of study first offered in 1876 at the four-room Union School built for $5,000 in 1867 at Main and Smith west of the Lutheran Church.
Key dates in the evolution of Plymouth High School
1879 – The first PHS class graduates, comprised of six young men: Will Bradford, Amasa Burton, C.D. Eastman, Charles Maynard, M.C. Mead (who becomes a senator), and Eliarda Robinson. PHS consisted of a principal, three other teachers and 35 students.
1880s – Rural students from around the state pay tuition ($445.69 in 1886) to attend PHS and train to become teachers, thanks to a new program at PHS (the second like it in the state – PHS was already innovating!)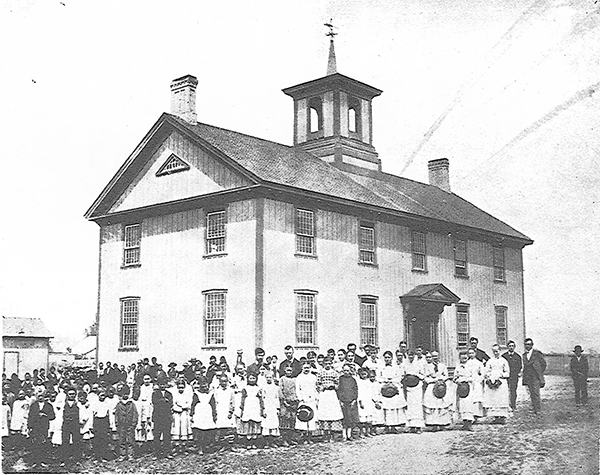 1883 – A two-story, four-room addition is made to the schoolhouse at a cost of $1,775. The lower rooms were for the high school and the upper rooms for the grammar school.
1890 – A fourth year is added to the high school course of study. The first year covers reading, spelling, arithmetic, writing, geography, and grammar. The second-year courses included reading, penmanship or perspective drawing, arithmetic, stocks, partnership, commission, grammar, and geography. The third year explored algebra, physiology, US history, civil government, composition, and general history. Fourth-year classes were algebra, geometry, natural philosophy, English and American literature, botany, mental science, and Latin or German.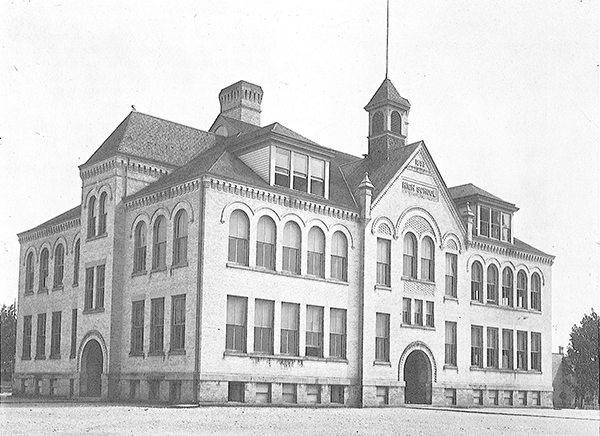 1893 – The schoolhouse at Main and Smith is replaced with a $22,000 cream-colored brick building on same site, housing kindergarten through grade 12.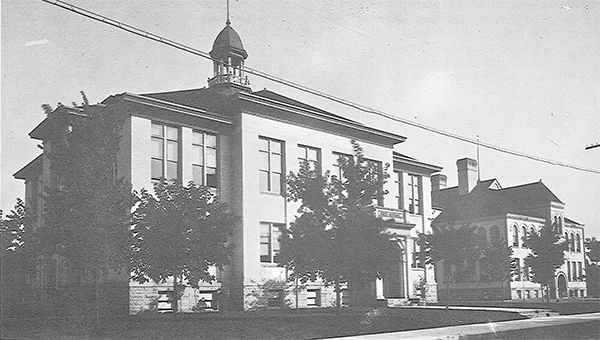 1904 – A separate high school building in constructed adjacent to 1893 school to accommodate growth – students rode the train daily from as far north as Kiel and as far south as Random Lake to attend PHS. It featured three recitation rooms, a lecture room and two laboratories on the first floor; a 300-seat assembly room, a recitation room, a library and the principal's office on the second floor; and two recreation rooms in the basement.
1908 – PHS adds a post-graduate Teacher Training Course, the second in the state.
1919 – PHS adds a four-year agriculture course of study, one of the first in the state.
1930s – Severe overcrowding prompts citizens vote 8-to-1 in the midst of the Depression to build a new high school. The district purchases 16 acres at the north end of the city on the banks of the Mullet River.

1933 – The new $265,000 junior/senior high school (now Riverview Middle School) opens to serve students in grades seven through 12. It was designed for 700 to 900 students and featured a gymnasium with a capacity of 700; a 1,000-seat auditorium; 27 classrooms and laboratories; and 250 lockers. (The 1893 and 1904 buildings are used for grades K-6 until Fairview & Parkview open in 1957.)
1955 – Again facing serious overcrowding, with enrollment projected to double by 1962, the district convenes a Citizen Committee, which recommends building two elementary schools and an addition to the high school. The Common Council authorizes the issuance of $1.25 million in bonds in September, but a petition is presented to repeal the bond resolution in October. The council passes a new bond resolution for $875,000 in December.
1956 – A petition to put the issue to referendum is presented to the council in January. The referendum passes 663-549 in April. But by then costs had risen by $132,000, so the decision was made to proceed with the elementary schools but hold on the high school addition.
1957 – When Fairview and Parkview open in the middle of 1957-58 year, they include the seventh and eighth grades to help alleviate crowding at the high school.
1962 – A new, 25-member Citizen's School Building Committee recommends using the existing high school as a middle school for grades six through eight and building a new high school. Voters approve a $2.8 million bond issue to build new high school on the former 80-acre Suchow farm.
1964 – At the annual meeting, electors authorize spending an additional $640,000 on a pool and equipment for the new high school, with a groundbreaking held in November.

1966 - Plymouth Comprehensive High School opens Sept. 6, though some areas were not yet completed until December.
1967 - Plymouth Comprehensive High School is officially dedicated on March 12, with State Superintendent of Public Instruction William Kahl in attendance. The 176 students in the Class of 1967 are the first to graduate from the new building.